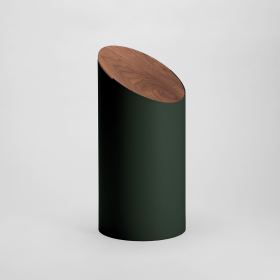 Swing Bin // green – walnut
1,250 DKK
A timeless  and elegant waste bin made with only two elements, a wooden lid and a cylindar shaped body. The Swing Bin has been created with no unneccessary parts – focusing on simple asthetics and functionality. The lid keeps its precise balance and tilts without any mechanism.
It is almost wrong to associate words like  trash or waste to this functional beauty. Almost like a scuplture.
Upgrade your home office with this Japanese beauty!
NOTE:
* The lid is made of sliced natural wood veneer. Please understand that a little warpage could be caused by the change of temperature or humidity.
* Some unique natural pattern could appear on the sliced natural wood veneer. Especially hardmaple lid has various colors and patterns.
* To avoid dents or scars, the bins are made of ABS to ensure long life durability. Comes with a clear liner sheet – to be placed inside to hold plastic bag.
In stock